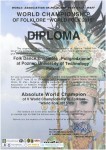 The highest awards for "Poligrodzianie"!
At the 5th World Championship of Folklore held in Burgas – Nessebar in Bulgaria / 20-30 August 2015 / Folk Dance Ensemble of the Poznan University of Technology received:
– A gold medal in the folk groups and music-vocal and dance group category
– Grand Prix of the Festival – . . . → Read More: "Poligrodzianie group" leaves no doubt!