The Festival of Traditional Art is the key project of The Folk Association "Poligrodzianie". It is the world-wide unique affair which connects tradition with modern approach to understanding the art. It presents not only regional products but also those inspired by traditional folklore, for example fashion show. During the festival week, the inhabitants of our voivodeship may take part in numerous concerts and admire various folklore ensembles from around the world. The Festival of Traditional Art is the only one traditional culture venture, which involves the audience to take part in so tightly. Among many presentation there are singing and dancing workshops, film screening and jam sessions. In one word – The Warta Campus of Poznan University of Technology changes into the festival town.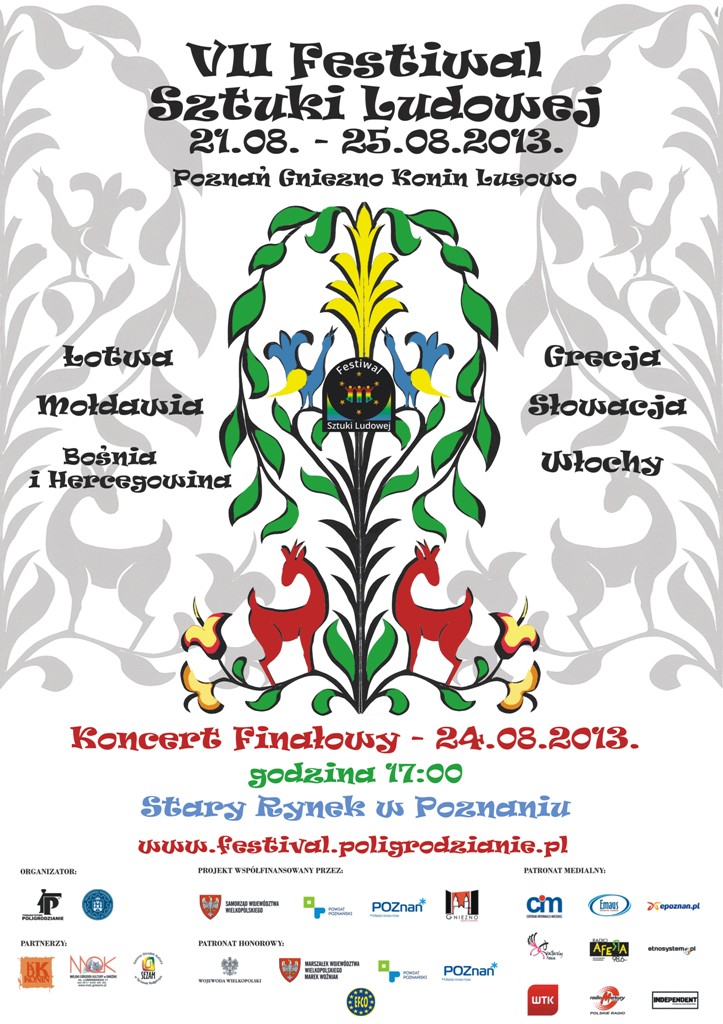 It happened again in August 2013. 7th edition of The Festival of Traditional Art came into the final phase. Over 180 participants from six countries took part in almost a week-long cultural event. Musicians, dancers, singers and other artist had an outstanding opportunity to show regional heritage of their homelands. The citizents of Poznań, Gniezno, Konin and Lusowo admired great variety of repertoire and sophisticated performances – national dances, traditional outfits, all well presented by guests from Greece, Italy, Republic of Moldova, Bosnia & Herzegovina, Slovakia and Latvia.
VII Festival of Traditional Art lasted from 20th to 26th of August and as always it brought us full of joy, smile,positive emotions and friendships – the most important elements of present modern and urbanized life.
Media
Video:
Press:
Urząd Marszałkowski Województwa Wielkopolskiego w Poznaniu
Poznań Nasze Miasto.pl – galeria
Miejski Ośrodek Kultury w Gnieźnie
Official website:
www.festival.poligrodzianie.pl