Dear friends,
We are pleased to announce the III Warta's carnival which takes place within the hospitable thresholds of the Lecture and Congress Centre (2 Piotrowo) on February 4th 2012.  This time we will take you to America, to New Orleans – the capital of total relax – THE BIG EASY as the Americans say.
We will take you to New Orleans Carnival, to the Dixieland and present you the atmosphere of port pubs and bars around Bourbon street. You can hear the musicians from the whole world who play jazz, salsa, rock or blues.
"Strefa Zero" band, Luis Nubiola (saxophone) and other guest musicians will accompany the  dance.
Additional information:
The carnival starts at 8 p.m. and continues until 4 a.m.
Price includes snacks and dinner, buffet, pies, coffee, tea, drinks, wine for the dinner /catering – Biesiada/
Lottery ticket – 10 zl
Tables – 4 -16 persons
In addition, we invite you to:
Auction
Lottery
Perfect cooking with French doughnuts /Most popular in New Orleans/ for desert
Bartender show with main cocktail "Blue Polibuda"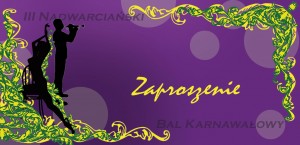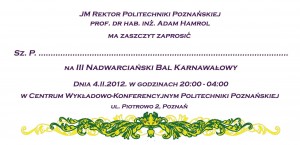 Special thanks to the lottery prize founders:

Film z balu: