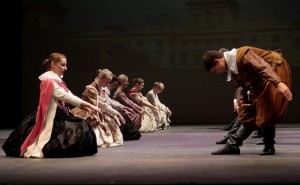 PUT University Culture Centre invites you to Christmas concert which takes place on 17.12.2011 in Lecture and Congress Centre (2 Piotrowo str.). Take whole family with you! Besides great entertainment, lecture in polish traditions is… a sweet surprise! Spend that December's day in atmosphere of old dances and carols with PUT Folklore dance group "Poligrodzianie" and folklore group "Mali Poligrodzianie".
Nowadays Christmas is mainly associated with shopping, household cleaning, television… So what did the celebrity look like earlier?
The concert presented by PUT UCC is a show to remind audience polish traditions. You will know where the Christmas customs come from, how it been celebrated in polish villages and palaces at the times of Middle ages and Renaissance. Authentic language, ceremonies, instruments, manners and costumes have been kept. More than 90 dancers and singers make you take a pause from hustle and kitsch to think about Christmas spirit.